October 23rd, 2021
Dear Diary,
my landlord asked me if he could cheer me up with two kilos of cabbage from his own field. Since he has a special machine and it was cut already he actually could; and later it tasted quite good with the potatoes he had given to me some time before…
I have to admit, though, that cooking cabbage stressed me out today, I think I'm a little tired after  yesterday, a bit annoyed by the fact that I was the only book club member who didn't like "The Rosie Project" one bit (or maybe by the fact that we're going to discuss another book of the series next time) and a bit overwhelmed by my to-do-list for the week-end.
Maybe I should have poured myself a cup of imaginary tea from my magic talking, singing and gurgling teapot at the shop before I left – it's my latest toy and it made a very small customer very happy today, I guess she had about 217 cups.
I googled "cabbage poems" and there were a number of trivial rhymes (in case you need a cabbage Valentine's greeting: "My heart is like a cabbage, divided into two, the leaves I give to others, the heart I give to you" ) but also some "serious poetry". Who would have thought? I guess this goes to show that even poetry stinks on gloomy days or that even cabbage can inspire you on the ungloomy ones, whichever you prefer…
CABBAGE, A LOVE SONG
By Marcela Sulak
I dislike you, cabbage. Your tight-fisted order
Yielding to my little knives with your immaculate squeaks.
Your rotund indifference to all that falls away.
The fact you feed me through the winter, through the centuries, and I dislike my need,
the shadows of my lifting fingers cast by your green light,
and all my old sorrow.
I dislike your density, as if the world lacked space,
your pure white heart that open fields can't heat,
the way you fall apart when cooked.
You're such a poor loser.
Plus it takes so very long to finish all of you.
I can say without reservation,
I hate all the casual ways you're so unseemly chaste,
so haughty in your modesty, so moderately good.
Taken from  jewishjournal.com, previously published in "Immigrant" (Black Lawrence Press 2010) and reprinted in "Verse Daily". 
October 22nd, 2021
Dear Diary,
yesterday morning my land lady called to inform me that one side of our free little library glass shelf had been shattered to thousands of pieces by the storm. Still a bit shattered myself from an exhausting day at the book fair I went to the shop to clear up the mess, where my usual after-book-fair- migraine hit…
Later that day I posted a picture on fb to ask people not to donate any books in the near future. The reaction was overwhelming:  according to facebook, more than 700 people saw it in the first few hours (compared to about 70 who saw my "Canadian Writers" pic…). Completely unexpected and very nice – and this morning there was a phone call by someone who offered his own glass shelf as a replacement and said he'd even bring it to the shop. How amazing is that?
But I wanted to share some book fair impressions with you. Wednesday was the first day and it wasn't public, so maybe that made it worse, but it was so incredibly empty and desolate. There was a screen outside with seemingly random people from the publishing world talking to nobody, the remaining few people formed long queues in front oft he very few food trucks.
Most publishing houses have  stopped printing their title lists which I guess is a good thing for the envirionment but it's less fun to check eevrything online. The vendors (a fifth of last fair's number in 2019) had lots of space but due to the security restrictions you couldn't really enjoy it. Without ticket sellers, ice-cream, hotdogs, pretzels ; with only very little foreign publishers and with no cooking shows and DIY publishers it was a depressing scene and I wondered what all those people missing were doing and how they got along. There's a chance, though, that it's livelier now that it's open to everybody, but ebven now the visitor numbers are restricted to one third and I doubt that even a third oft he usual visitors will turn up.
That being said, the magic is still there, you just have to take a closer look. I found children' s books that were so beautiful I wanted to hug them, passionate writers, lots of book-inspired creativity, great quotes and people who love to share them … And of course the curious fact remains, that a lot of book people still follow their unwritten own dress code with colourful socks and stockings, artsy or vintage clothes and most importantly, extravagant expensive leather shoes.  It seems that bookworms do have other interests, too , like fashion and pets… I treated myself to a live podcast with the German literary critic Denis Scheck before leaving and was "a trifle underwhelmed" by the fact that he was talking about his Jack Russell  terrier. His socks, however, didn't disappoint.
Well, back to the shop, where I was a little bit nervous because I wanted to go home and cook dinner before going back for our English book club meeting, but I had to wait for "shelf-man" first. Luckily one of my favourite customers was there, too, and we had a very inspiring chat while I waited until two men arrived with the shelf and assembled the parts outside and – smashed the shelf's glass door.
My landlord doubled over laughing when I told him that I couldn't clean up the mess because of book club night….
Book club was heavenly with two new international members, great book talk and Asure dessert for all, prepared by one member in memory of our last discussed book, "The Bastard of Istanbul"  wherein the chapters are named after the Asure ingredients and the complete dessert finally poisons the brother.  Sweet dreams!
October 16th, 2021 
Dear Diary,
I was chatting with a neighbour on my way to the shop when I saw the first clients park their car and had to really hurry… It's always a bit embarassing to be late because I can't just let people in, I have to put the postcards and stuff outside first. The re-decorated shop is a lot better arranged now but it's still so small… Well, one of my two favourites  while browsing facebook posts today was Albert Einstein's quote "Gib das, was dir wichtig ist, nicht auf, nur weil es nicht einfach ist." I won't!
The other one was a video with a toddler walking a dog bigger than himself. He really did a great job and obviously felt responsible for the dog. Then there was this puddle and after some consideration the kid carefully placed the leash next to the dog and started running through the puddle,  checking on the dog after every crossing. I hope I'll also be able to neither neglect my duties nor any puddle that appears on my path!
That being said I had better be finish my book right now because I have to start our book club choice. The thing is, "Black Swan Green" by David Mitchell -  about a boy with a stammer living in Worcestershire in the Eighties  - is SO good that I can't read it here because I'd risk not noticing the customers…  it's the Rosie Project, then, see you! 
October 15th, 2021 
Dear Diary,
I'll never be a proper bookseller…  One of my customers forgot to pay today. When he came back three minutes later I didn't have the slightest idea why. We had had such fun with his stories and the cartoon and joke books he bought and I was so pleased that he had found  the root beer candy that I had hidden below the gobstoppers for him to discover. And when he re-entered the shop I was just thinking how I hadn't recommended my home-made apple muffins to him but couldn't think of anything else I had forgotten.
I'm super busy here now because I've started to take the inventory which is required by the tax office. Have you got any idea how hard it is to take all the books from the shelves and record the data without starting to read them?
Next problem: I'm running out of tea. There was a customer desperate for tea today but the choice is getting smaller and smaller. I can only hope that I'll find a solution to get affordable tea again despite Brexit and what not. And I'm not talking about any old tea but about OUR brand, appointed tea merchant by her majesty the Queen.
Must be off to write the newsletter…
October 9th, 2021
Dear Diary,
you know what a ghost writer is, but have you heard about ghost readers? In my case it's those people awaited at the shop but nowhere to be seen. They are on my mind, in my memories, my hopes, my planning ahead… and not least in my guest book which I sometimes turn to and which makes me happy without fail. I haven't asked people to write something  into it for a long time but I think I should start again, it's just great to see where people come from and of course to enjoy what they say about the shop. In a way it's a shared diary - maybe next time I'll copy some nice quotes here…
I sometimes ask myself if there's a correlation between lack of clients and family crises. Today I had my husband calling because of a ruined tyre and my daughter because of an equally deflated mood, so being alone (except for my true friend and companion in good and bad bookshop days who was here again) gave me a chance to call the ADAC and make new plans for the slightly altered day (and my husband had promised me his world-famous Spätzle!). I went home in time to get Spätzle from CAP and my daughter from the station and hung up the laundry while my neighbour announced his wife's party for tonight and the catering truck (!) arrived. Don't think I don't have any visitors here, though! I had two very nice men from Vodafone, and one even left his card…
Will I be able to close the circle from this meaningless chat to a serious bookshop's diary entry? You bet! Because my daughter had missed her train I had wait to with the impatient dog for half an hour which I spent walking in circles down from the station to the park-and-ride. It was a path I usually dont take, which gives me the chance to quote the ending of Robert Frost's poem "The Road not Taken":     
 "Two roads diverged in a wood , and I –
I took the one less traveled by,
And that has made all the difference."
What difference you may ask (and you are right to ask)? Well, I discovered that the path was lined with snail shells, the really cool ones that look like sea snails and that you don't normally see around here. I took lots because they are so beautiful and DIY-project-inspiring and poetic and (this is a lie) because they made me think about the "Hermeneutischer Zirkel" by which Friedrich Schleiermacher and other romantics explained the never-ending spiral of understanding a text by interpreting parts in interdependence with the whole meaning. Take that, dear diary! See you next week!
October 8th, 2021  
Dear Diary,
Sweets Day at Sweet Things and Stories! The Jelly Beans sell quite well. I actually hate Jelly Beans but couldn't resist buying them for the shop because they come in such cute donut tins.
Today I could support one of my youngest regulars, who bought a collectors' album for special quarterdollars at the shop, with a few coins he didn't have. Looking for them brought back great memories of our trip through the USA zillions of years ago. I remember planning our journey, supposed to contain the highlights of the western states, and asking my husband what his must-sees were. His answer: Graceland and Houston. Well, okay, I've always been bad at Geography myself but still… Thanks to planes and trains we visited Graceland and Houston and while we were at it I also treated myself to New Orleans and Galveston before we finally moved on to the West. From there on, it was a literary trip, too, the highlights being the  Steinbeck house in Salinas,  the Charles M. Schulz Museum in Santa Rosa (that tragically burned down in the California fires in 2017) and finally the City Lights bookstore and publishing house in San Francisco, founded by  beat poet Lawrence Ferlinghetti.
Sad to say that I couldn't help with a Peter-Rabbit-themed birthday party today. My Peter-Rabbit non-book thingies are sold out and invitation cards were nowhere to find. Poor Peter, bad luck once more, and it isn't even his fault this time! It's going to be a ghost party now. I sure can contribute something here with Halloween approaching and my autumn items taken down from the attic….
Autumn books also contained a Gruffelo Autumn activty book which turned out to be ideal for younger and older siblings and made me note that activity books are a great way to have brothers and sisters do something together, the older ones helping the little ones and getting some extra motivation to try their English.
Autumn… isn't it the season of hoarding, making provisions, stocking up on great books for a long and cosy winter? Just take a look at my window – squirrels know best!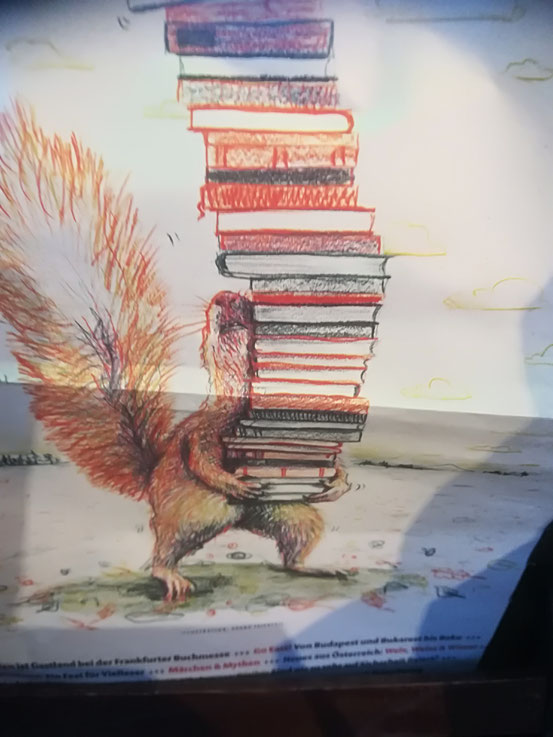 October 2nd, 2021 
Dear Diary,
it was a quiet day at the shop which was just as well – I'm still really tired after all the redecorating plus after all this difficult time with the pandemic and Brexit and now finally the opening oft he new children's bookshop and the re-opening of "Sweet Things and Stories" in less than a month it's a bit like in the final phrase of Joseph Roth's novel "Iob" (which will always be one of my favourite books):
"And he rested from the burden of his happiness, and the greatness oft he miracle."
There were a few old acquaintances and a good friend stayed until closing time – which was a little late, because on days like these there usually arrives a client at two minutes to one…
However, the family wasn't as starved for lunch as I was for reading time with my wonderful  book "Bookworm. A Memoir of childhood reading" by Lucy Mangan.
I found it in the mail a long time ago, it was a gift from a lady who has an English book club in Schwäbisch Hall. We half-jokingly call us partner-book clubs and, who knows, maybe we'll really meet one day. Anyway, she sent me the book, just so, a wonderful gift, and now that I've finally started it it makes me so happy. It's like meeting old friends (books, characters, authors) and I'm taking notes to watch out for certain titles to buy them fort he shop so my friends and clients will be able to meet them, too. 
October 1st, 2021
Dear Diary,
ten years already, and I've been taking notes for a long time now so I won't forget the nicest / most special moments at "Sweet Things & Stories". 
Now this is it! The shop's finally open again! And I think I'll start writing to you in a nice diary-like way instead of scribbling down notes. This will give me the chance to find and reread what happened and to also share some of it – stories have always been meant to share, haven't they?
The first visitors today were three women in a contagiously good mood – a great start! Then there were the "usual suspects" who re-stocked on chocolate, gifts and crossword puzzles. My, it's so good to be back!!
I was sure surprised to have a client from Düsseldorf and it was quite nice that he had come because oft he shop's excellent reviews on google 😊 Unfortunately he hadn't noticed it was an English shop and he needed a gift for a three-year-old, "preferably ponies or dinosaurs". We finally agreed that the child wasn't going to mind a few English sentences next to the mess-free (just water makes the colours appear) pony colouring pages…
Of course the most wonderful moment oft he day was our first live book club meeting after such a long time of reluctantly meeting via Zoom.It was a meet-up without a proper book discussion, just catching up with each other's lives and exchanging ideas about our latest reads. It was a warm and bright evening if you know what I mean – the special atmosphere still lingered in the shop after everyone was gone and I finally went to bed happy and thankful for being able to live a life full of people and books.